CENTRE FOR PARISH
CHURCH STUDIES

As part of the Flintspiration
 

legacy, the Norwich Historic Churches Trust has set up the Centre for Parish Church Studies (CPCS).
Centre for Parish Churches Studies operates from St Martin at Palace and provides opportunities to learn about all aspects of parish churches – historical, social, archaeological, architectural, and liturgical – on both a local and national basis. The events take the form of day- and weekend-schools, weekly courses, tours, and practical sessions.
CPCS is overseen by an Academic Advisory Board, who between them cover a wide variety of areas connected with parish churches. Courses and lectures are given both by Board members, and also by other experts in various fields.
We are honoured to have Dr Janina Ramirez as our Patron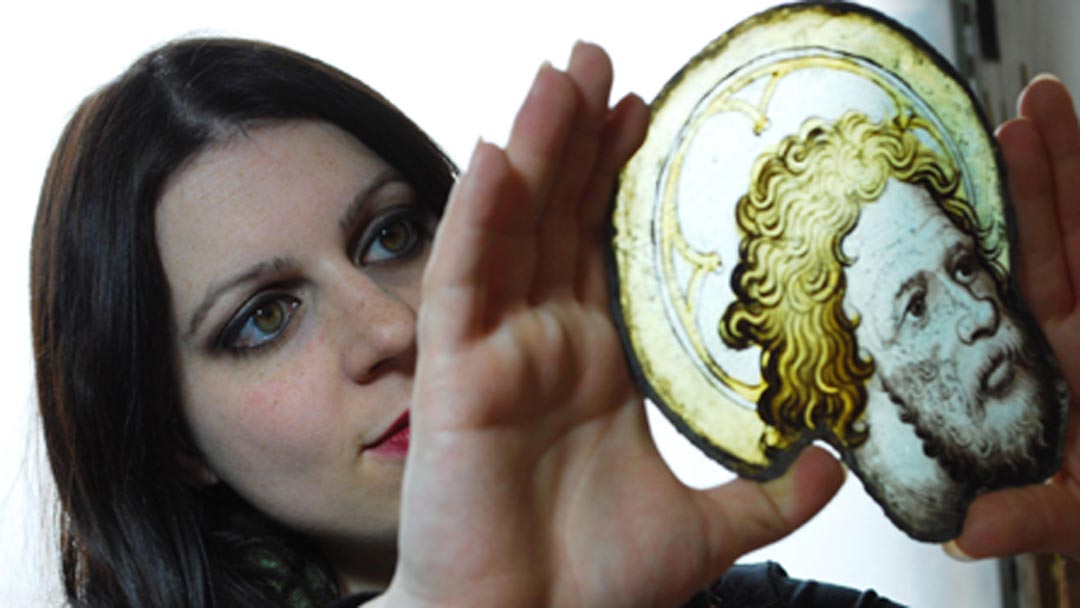 Dr Janina Ramirez is a cultural historian, broadcaster and author based at the University of Oxford with a passion for communicating ideas about the past. As a lecturer and course director, she wants to share ideas, information and inspiration with every student. And also open up the subject to anyone and everyone who cares to listen, through the wide reach of television, radio, publications and new media.
She read English literature at Oxford, followed by an MA and PhD at the Centre for Medieval Studies in York on the art, literature, and culture of Anglo-Saxon England. But her interests have constantly branched outwards in all directions as she has taught more broadly on everything from classical architecture to the work of Tracey Emin.
Broadcasting has allowed her to see narrative threads stretching across time and disciplines, and to find shared human concerns, themes, problems and innovations throughout time. She has lived, researched, broadcasted and published through a period of great change – the Digital Revolution – where traditional modes of communication are being replaced by new ways of interacting with audiences worldwide, and is dedicated to embracing ideas, opportunities and advances, moving with the fast flow of modern thought.
Dr Janina Ramirez says
"There's one word that has appeared in every school and university report I've ever had: 'enthusiastic'. I want to share this enthusiasm."
2022 programme coming soon
IF YOU WOULD LIKE TO BE KEPT INFORMED OF FUTURE EVENTS AND DEVELOPMENT
Please get in touch.
MA, BMus, PhD(Wales), MA(EAng), BA(Lond), PGDip(York), FRHistS
Read about Dr Nick Groves
Dr Nick Groves has been studying parish churches since 1972, initially in Norwich, an interest which gradually spread geographically. His doctoral research, undertaken at Lampeter, where he held a WD Llewelyn Memorial Scholarship for 2003-04, was on the spread of Anglican Ritualism in the Diocese of Norwich, and especially within the City of Norwich; and he holds the Postgraduate Diploma in Heritage, History, and Fabric of the Parish Church of the University of York with distinction. He taught mediæval and ecclesiastical subjects in the former Centre for Continuing Education at UEA from 1993 until it closed in 2012, since when he has been a freelance lecturer and writer on churches and church history. He is a Fellow of the Royal Historical Society, and a member of the Ecclesiastical History Society. He was appointed a Trustee of the Norwich Historic Churches Trust in 2005, with responsibility for education. His publications include The Medieval Churches of the City of Norwich (HEART, 2010), and historical guidebooks for several of the city's churches.
PhD (Northwestern, Illinois)
Read about Dr Kristi Bain
 Dr Kristi Bain is a Senior REF Impact Co-ordinator in the Research Strategy Office at the University of Cambridge. She holds undergraduate and postgraduate degrees in History and completed her PhD in Medieval and Religious Studies at Northwestern University (USA) in 2014. Her research and publications focus on issues surrounding medieval parish churches in England, past and present, including conflict, collective memory and cultural heritage. Her research has been funded by the Medieval Academy of America, the Mellon Foundation/Northwestern University Medieval Studies Cluster, and the German Academic Exchange Service (DAAD). She was elected a Trustee of Norwich Historic Churches Trust in 2017.
THE REV'D DR ALLAN BARTON
BA(Lond), MA, PhD(York), FSA
Read about The Rev'd Dr Allan Barton
Dr Barton was educated at University College London and then at the University of York, where he was awarded a PhD in History of Art for a thesis on the Medieval Stained Glass of Derbyshire and Nottinghamshire. His research work centres on late medieval visual culture in context and the liturgy of the late medieval church. He is also an author for the Corpus Vitrearum Medii Aevi. After a spell teaching History of Art to adult learners, he trained for ministry at Ripon College Cuddesdon. Since then he served as a parish priest in Norfolk, University Chaplain in Wales and has spent time as a conservation bookbinder. He currently serves as Rector of the West Wycombe benefice in Buckinghamshire.He is also a trustee of the Churches Visitor and Tourism Association.
Read about Dr John Beal
Dr John Beal is a retired NHS Consultant in Dental Public Health who lives in Yorkshire. He has a long-standing interest in both medieval church history and dental history. He is particularly interested in the cult of saints and the iconography of depictions of saints including in stained glass windows and rood screens. He is a former member of the Church of England's Church Buildings Council and of the Diocesan Advisory Committee for the Diocese of Ripon and Leeds. Member of the Norfolk Churches Trust and the Yorkshire Historic Churches Trust and a member of the Mid-Yorkshire Branch Committee of the latter. Member of the Council of the Churches Visitor and Tourism Association. Past Chairman of the Lindsay Society for the History of Dentistry. In addition to many dental papers and chapters in books his publications include "Representations of St Apollonia in British Churches" in Dental Historian (1996), "Toothache, saints and churches in medieval Norfolk with particular reference to the city of Norwich" in Of Toothache, Churches and Sheep ed Nicholas Groves (2016), with further papers in preparation. Research interests include saints among whose recorded medieval miracles were curing toothache.
Read about Mark Wilson
Mark first started working on historic buildings back in 2005 as an assistant conservator with the National Trust at Treasures house in York. After graduating from Bournemouth University in 2008 with a BSc in Heritage Conservation, Mark started as a self-employed stone conservator and worked on a variety of historic buildings in the North of England, including Castle Howard and numerous medieval churches.
In 2013 Mark moved to Norwich city council as Conservation Officer and continued to look after all of the city's historic and listed buildings until 2016, when he joined the Norwich Historic Churches Trust as their Surveyor of the Fabric. As part of his role as surveyor for the NHCT he looks after the repairs and conservation of 18 redundant medieval churches in Norwich.
Read about John Vigar
 John Vigar has been an ecclesiastical historian for over 40 years. He is a Trustee of the Friends of Friendless Churches and former Development Manager for The Churches Conservation Trust. He has visited over 13,000 churches in England and Wales and is a popular Arts Society (NADFAS) lecturer and specialist Church Tour leader. A member of the Advisory Panel of the Norfolk Churches Trust he has also served as Photographic Curator of The Kempe Society, Trustee of Arts Alive in Churches and of the Ledgerstone Survey of England and Wales. Amongst his publications are Kent Churches (1984, 1995, 2001), Exploring Sussex Churches (1986). John was ecclesiastical contributor to The Historical Atlas of Kent (2010) and the VCH volume The Medway Valley (2009). His specialist interest is 19th century church restoration.
MA(York), PhD(Durham), MCIfA, FRSA, SFHEA
Read about Dr Emma J. Wells
 Dr Emma J. Wells is Associate Lecturer and Programme Director in Parish Church Studies and English Building History at the University of York. Her research interests fall within the field of the religious and cultural history of late medieval and early modern Britain, and focus on the art, architecture, and material culture of the period set within their broader Western European context. Her wider interests include pilgrimage, cult and commemoration, the changing nature of sacred space, sensory experience, and the application of interdisciplinary approaches. Her book, 
Pilgrim Routes of the British Isles
 was published by Robert Hale in 2016. Her next book, 
Heaven On Earth
, will be published by Head of Zeus in 2020, while her thesis will be published by Bloomsbury later this year. She is a former executive committee member and social media manager of the Ecclesiastical History Society and currently sits on the editorial board of 
Royal Studies Journal
. 
In July 2018, she was elected to the Guardians' Committee of the Society for the Protection of Ancient Buildings.